I
stole
borrowed this idea from
Reads Recipes Runs
. Since I
still have nothing fertility related
to tell you about I'll give you some fun, light reading on Five Fab finds.
1.
Bic Bands
I know I've mentioned these before but I really swear by these. They really do stay in place through a run and keep the stray hairs from my
sweat filled head
eyes. And to top it off, the owners are great. I'm a huge fan of "keeping it local" and buying from a small business vs. the Walmarts (sorry if your a chain conglomerate supporter) of the world. For some reason my recent order was misplaced. I emailed and they were awesome, apologizing for the mishap, sending it out priority AND including a FREE band. Booyah!
2.
Etsy
If you haven't shopped on Etsy your missing out. Etsy is a site where anyone can sell anything homemade. I bought a few things in the past 6 or so months..
This infinity scarf by
BeardedOwlsHoot
. It's gorgeous, I definitely did not get to wear it as much as I would have liked this winter
Gorg jewelry by the ever so talented
Trista
who I know personally and she's a sweetheart!
3. Smoothies!!
Summer is coming up and what better way to celebrate than with smoothies. Here are a few recipes:
The Fitnessista makes Smoothies
All Recipies
If you're like me and
lazy
don't have a smoothie maker nor a blender try the
Smoothie King
(a chain I know). I had one in the airport (
Slim-N-Trim Strawberry
). mmm Note: You can add extra protein. Bonus.
4. Garmin GPS Forerunner 205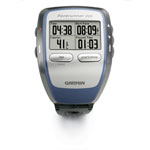 Whether you're a runner, walker, hiker or biker this is awesome. It shows time, pace/lap/mileage (runners), elevation, tracks your path..there are 12 data points available. When running I rarely leave home without this.
5.
Wild Tree products
. A friend is a consultant and I just bought the European Dipping oil duo and they are tasty! If you are interesting I'm having a book party soon (this was not a plug...really). Email me at nicolecoolman at yahoo.com if you're interested!
source
Cheers to the weekend!